Golden Legion
ArmA III Gaming Community
We are Golden Legion. We try to provide a tactical, organized environment while staying casual and fun. All nationalities are accepted as we have people from East to West who play. We act as many and attack as one, using effective communication to move, spot, and kill.
As a PMC we are mainly an infantry force and focus on infantry tactics for our missions since it is what we enjoy the most. There are many other roles to fulfill as we grow and incorporate combined arms, such as CAS, UAVs, Vehicles, Helicopters, Logistics, etc.
This community was founded on the strict belief that we are here to have fun. No drama, no undesirable rules, and most of all, fair leadership within our staff.
We started off as admins, developers, and dedicated players from many communities. With this experience, we march together and do what we know is right: create an ecosystem where new and veteran players alike can have fun together. This is a goal we are working day and night to achieve. For you. For us.
Golden Legion is a PMC (Private Military Company) so there are no ranks to climb. Just training and skills to acquire. The hierarchy is really simple. We have grunts, junior officers, and officers.
After we get and accept your application you can get the Unit Patch by the link below.
Check out our awesome guides and articles!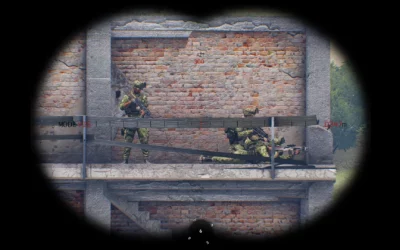 We've all been there, your squads still getting into position. You jump into cover and make callouts. Your opening shot will determine the course of the battle, it's life or death. Then someone calls out, "range?" In those first moments, it's one of the most important...
read more
Founder: Nadernade
Lead Developer: Discount Ninja
We change this from time to time, we try to keep this mod list simple and as stream lined as possible.
Thank you for your support!
Discount Ninja has maintained this community's servers and website out of pocket from the beginning. We ask you to consider supporting our servers, our staff, and our growth by donating to our official Paypal. These donations go directly towards our goal of one year of payments for our two servers and the website, unless told otherwise by you, our supporters. The total amount for servers and website being $660 a year.
Our staff puts a lot of time, effort and research into organizing events, creating missions, developing the Liberation server and generally creating a fun atmosphere; All for the low cost of free. Please consider supporting us in creating our dream of a successful and fully funded community.